Design & Engineering
Timber Packages
Designing your dream home is a journey that can end up with delays and ups and downs. We want our part of your journey to be as seamless as possible. Whether you have a sketch or conceptual drawing, or just an idea in mind, we work with you to find the perfect design. From that idea comes a preliminary design. In the following images, you can follow the many changes that occur just with the truss design over the course of designing a home.
Your first step in designing a home is visiting an architect to create a design concept. Once you have chosen a design that meets all of your requirements, that design is transformed into blueprints that are referenced throughout the build process.

For this home, the owners decided an arched timber design to match their arching window line suited their taste better than the original. A final architectural concept is given to our designers to begin the process of digitally building your trusses.

With structural integrity and cost efficiency in mind, our engineer designs a truss concept that will meet structural requirements while also meeting the home owner's desires. Here, what began as decorative trusses ended with structural beams to meet new load requirements after the owners were required to shift to clay roof tiles.
When the engineer's concept is approved by the home owners, the final specifications and measurements are used to create build and cut sheets. Cut sheets are given to our sawyers to direct cuts for each piece, while build sheets are given to our builders as their own instruction manual for building.
Staining & Finishing
DMS strongly recommends Penofin oil finishes. Having used multiple brands, we have found that Penofin thoroughly coats the timber to give a full and rich color without over saturation. We have provided Penofin brochures for your convenience and we will also provide a stain sample on cut timber from your package before staining. This will give you an idea of how the timber will take the finish. All timber trusses are manufactured from heart free Douglas Fir, a structurally sound lumber with its own variation of colors, which gives every stain package a unique, beautiful finish.
If you are unable to find a color in Penofin to suit your needs or should you choose another brand, we will finish your timber in the color and/or brand of your choosing.
Powder Coating
If steel is necessary structurally or for the desired look, the final decision you will have to make for your custom truss package will be the color for your steel plates. These are manufactured to join each connection point and will accentuate the stain finish and truss shape. Once the entire plate package has been cut to specification, they are sent for powder coating. Whether you want high gloss or flat, hammer-tone or untextured, dark or light, we can find the coating you want.
---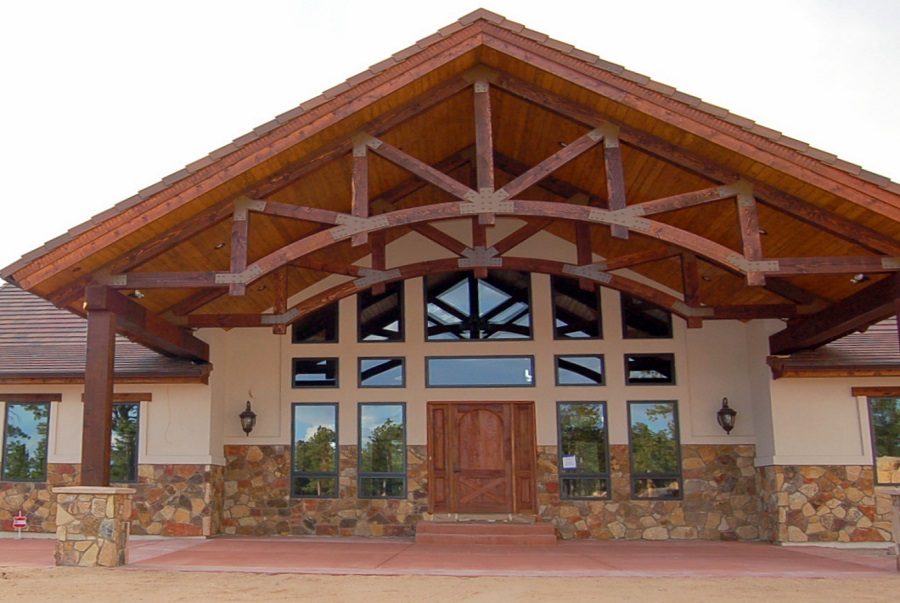 ---